Same day Service
On-time & Reliable
Affordable Prices

The Model of Excellence
What we do differently to improve your overall experience:
Get a Text and Email notification when your appointment is set and when your tech is on his way.
Your time is valuable, so we book a 2 hour window for all appointments.
Your tech will ensure you know what he's doing every step of the way.
We provide inspection reports with pictures to document all findings and concerns.
Most repairs can be done same-day because we keep our trucks fully stocked.
Conveniently accepting all major credit cards. Simple financing available.
Includes Detailed Inspection Report w/ Pictures
* per system
Special Financing Payments low as $99/mo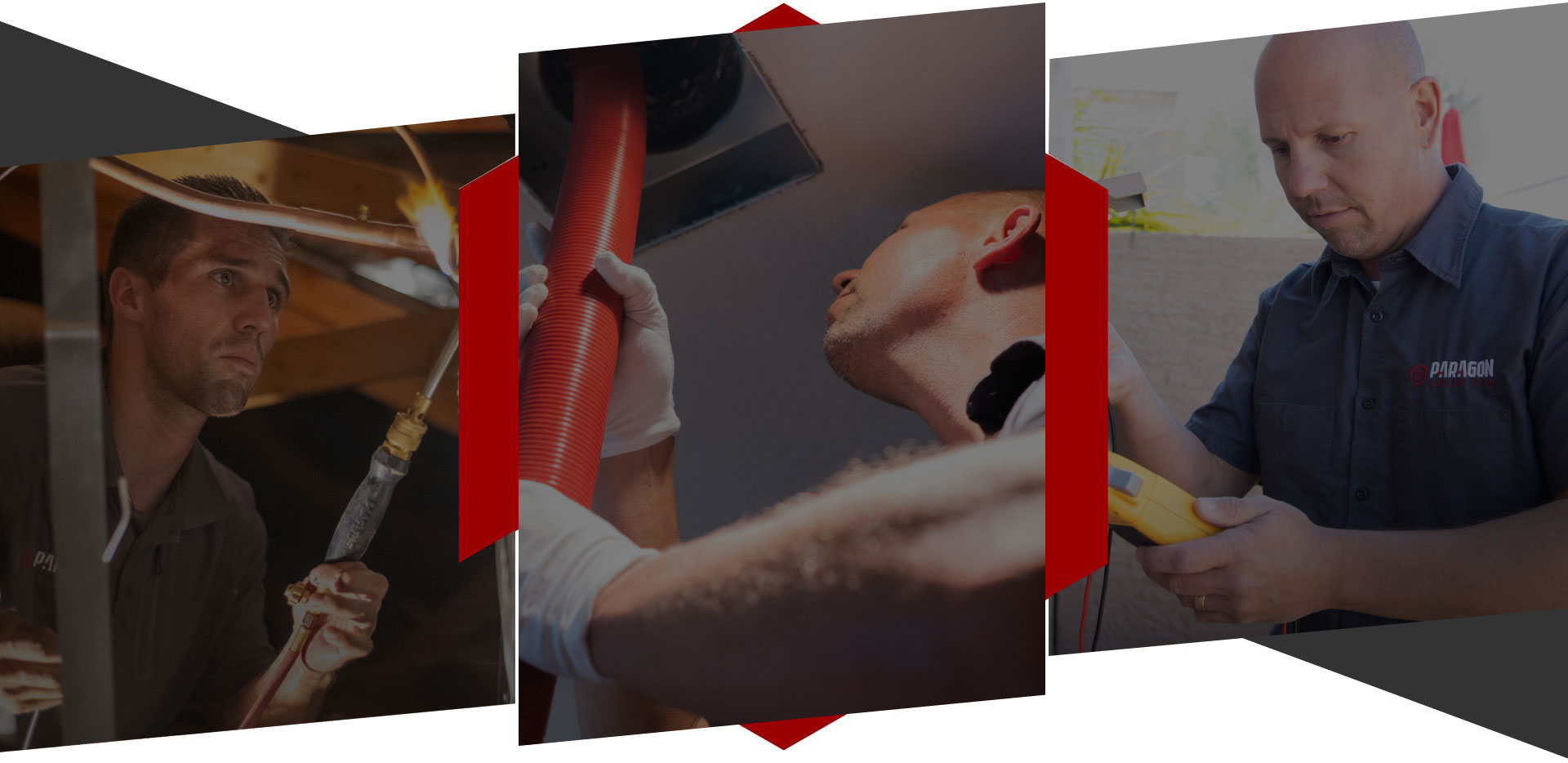 PARAGON SERVICE PROS IS BASED IN EAST VALLEY & AVAILABLE
7 DAYS A WEEK
How Can We Help?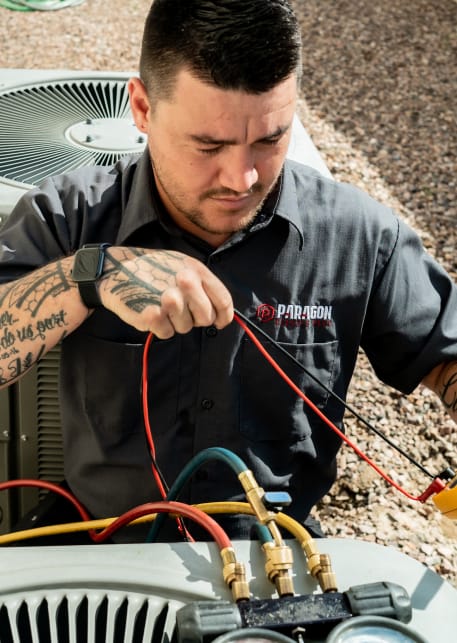 Heating System Services in Chandler, Gilbert, Mesa, Queen Creek, Sun Lakes, & San Tan Valley
Expert Heating Technicians in the East Valley
While many people associate Arizona with blazing heat, those of us who live here know that there are plenty of chilly days, where a heating system is necessary to keep you comfortable indoors. Our team at Paragon Service Pros understands the value of a quality heating system, which is why we offer our East Valley community a wide array of heating services.
We are available for same-day appointments and offer after-hours emergency services for your convenience. Our heating specialists are capable of servicing virtually every type of heating system, including boilers, furnaces, and heat pumps, to ensure that you can receive the high-quality service you deserve, no matter what system you have.
Our heating services include:
Heating installation and replacement: Our technicians only carry and install top-of-the-line systems from trusted brands like Amana to maximize your investment, and we install them seamlessly to ensure a durable and dependable result.
Heating repair: Day or night, you can count on our team to be by your side to quickly and accurately diagnose your heating problem. We then walk you through your options before getting to work restoring your heat.
Heating maintenance: To get the most out of your heating system, we recommend having a professional clean and inspect your system at least once a year. Our technicians will provide a detailed report regarding the health and function of your heater, as well as perform a thorough inspection and cleaning of your unit, to ensure your system continues to run optimally.
TO LEARN MORE ABOUT OUR HEATING SERVICES, OR TO SCHEDULE AN ESTIMATE, CALL OUR TEAM TODAY AT 480-741-1252 OR BOOK ONLINE.
CUSTOMER SERVICE IS OUR NUMBER ONE PRIORITY
INTEGRITY AND HONESTY WITH EVERY CONVERSATION
HIGH QUALITY SERVICE FROM TRUSTED EXPERTS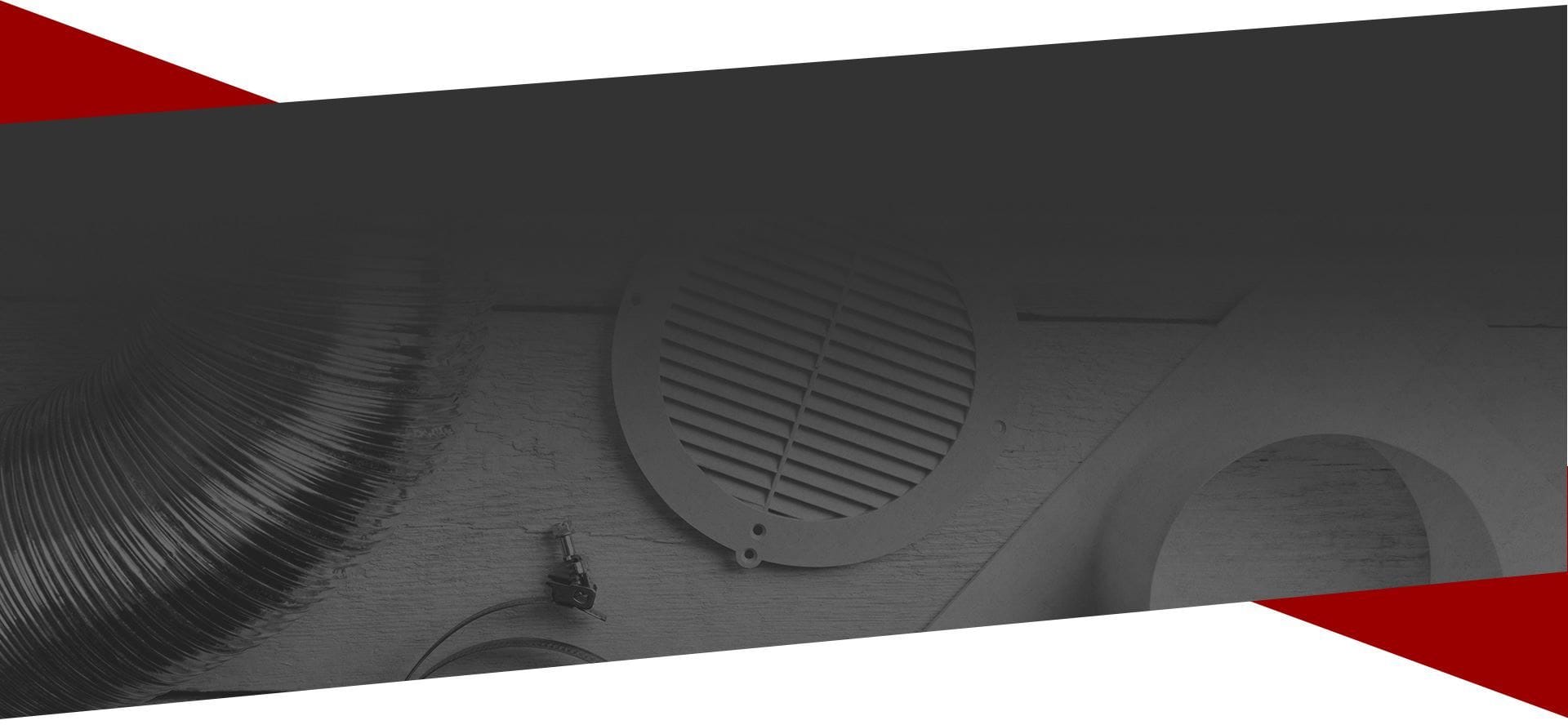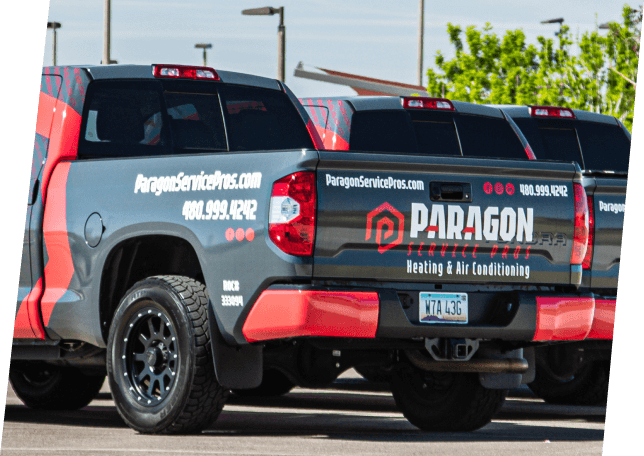 Have an emergency?
Our team is available for emergencies and same day service! Contact us now to get one of our experts heading your way.
Service Area Map
We offer service to
Chandler, Gilbert, Mesa, Queen Creek, Sun Lakes, & San Tan Valley & any other areas shown on this map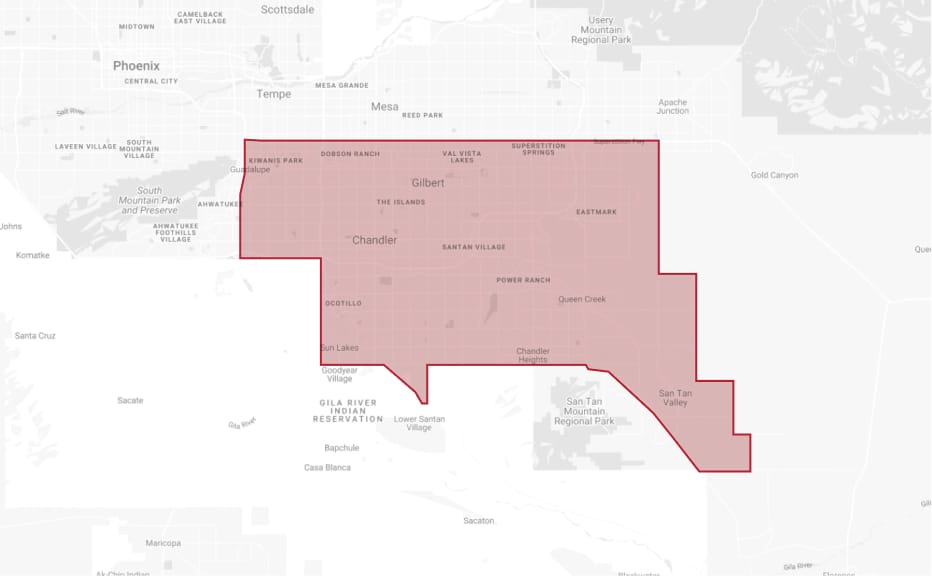 NEED FINANCING FOR YOUR NEW HEATING SYSTEM?
We offer low monthly payments starting at $99/mo
Apply Now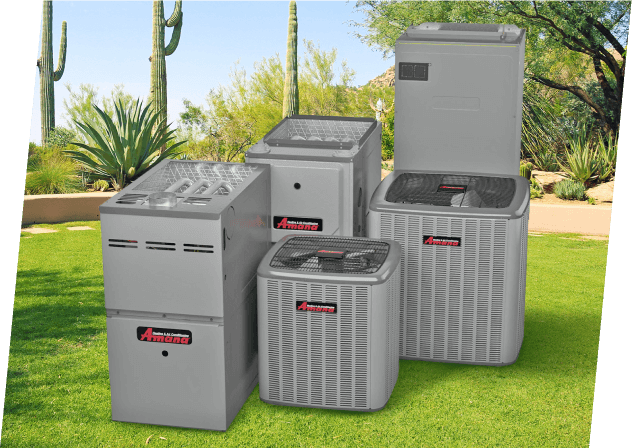 Why Choose Paragon Service Pros?
SAME PRICE FOR NIGHTS
OR WEEKENDS
IMMEDIATE SERVICE
AVAILABLE
300+ GOOGLE REVIEWS
/5 STAR RATING

A+ BBB
RATING
HEATING REPAIR IN THE EAST VALLEY INCLUDING CHANDLER, GILBERT, MESA, QUEEN CREEK, SUN LAKES, & SAN TAN VALLEY, AZ
We'll Have Your Furnace Back Up & Running in No Time!
Arizona may be known across the United States for its sweltering summers, but if you are a true resident of the East Valley, you will know that the winters can be a beast as well, especially if your heater is acting up. For those frigid winter nights, you need a heater that you can rely on. At Paragon Service Pros, we provide dependable furnace and heating repair in the East Valley.
When our specialists arrive at your home, they come equipped and ready to diagnose any issues you may be having with your furnace or central heating unit. We will perform rigorous repairs in rapid time, so you can experience true relief of a warm, cozy heater even on the coldest of days.
CONTACT US NOW AT 480-741-1252 TO GET STARTED WITH YOUR HEATING REPAIR SERVICE.
What are the Signs you May Have a Heater Problem
One of the most common methods for identifying whether your heater is having issues is by listening to the sounds it is making. Depending on the kind of noise being emitted, your heater might be experiencing a minor problem or a major catastrophe.
Some typical sounds your heater might make include:
Loud banging sounds – When your burners are dirty, this often causes the gas to collect inside the unit, halting its ability to properly ignite. When the gas finally explodes, it makes a loud bang, which can eventually break your heat exchanger.
Grinding noises – If your blower wheel has come loose, or the mount has broken free, it often results in this coarse sound.
Whining noises – Usually, these sounds are a sure indicator that your blower belt is having problems. In some cases, the bearings of the shaft require additional lubrication, but in other scenarios, the blower motor might need to be replaced altogether.
Why is your Furnace Running but no Heat
One of the most common reason why your furnace may be running but not producing ample heat is because of a dirty filter. Filters should ideally be changed frequently depending on the size. This will ensure that quality heat is being generated throughout your home.
How Long Does it Take to Fix Heating
When you request a heating repair service you can expect the repair to take between an hour to a full days work. If a couple parts need to be replaced, you should expect repairs to be done rather swiftly. If it is discovered an replacement is needed , you should expect it to take much longer.
CALL US TODAY AT 480-741-1252 OR BOOK ONLINE SO THAT WE CAN OFFER YOU RAPID EAST VALLEY HEATING REPAIR HERE IN ARIZONA.
HEATING REPLACEMENT IN THE EAST VALLEY INCLUDING CHANDLER, GILBERT, MESA, QUEEN CREEK, SUN LAKES, & SAN TAN VALLEY, AZ
Installing High-Efficiency Heating Systems
Since Arizona is located in the Southwest of the United States, many people assume that it is warm here all the time. However, even in our desert climate, residents of the East Valley know that the winters can become quite chilly, and even the mornings and evenings of early spring and late fall will make you want to switch the heater on.
However, what happens when you turn on your heater and the air that blows out feels icy cold? Perhaps your system does not even start at all, and you are left shivering through the night. If you are experiencing problems with your heating unit, it is time to give Paragon Service Pros a call. We can replace your old, worn-down furnace or central heating system with a brand-new unit. There is no need to fear goosebumps when you rely on our professionals for expert heating replacement in the East Valley.
CONTACT US NOW AT 480-741-1252 AND ONE OF OUR TEAM MEMBERS WOULD BE HAPPY TO ARRANGE A COMPLIMENTARY ESTIMATE
What Is Involved In Changing Out Your Heating System
It is no simple task to replace a heater, which is why it is so important to reach out to our trained experts. When our team arrives at your home, we will first determine which installation technique is appropriate to use for your individual furnace or heater. If you need to have a new thermostat mounted, we can carefully place this into an approved location and run the right control wires to the newly installed furnace.
If your heater requires a filter base, we will also set this beneath the system so that it provides ease of access for filter changes. When your system has a lot of wiring or connections between gas or electrical sources, our dedicated team can carefully install these so that there are no loose parts or pieces that would make the system unreliable. We will also make sure that any ductwork and piping are clear and clean, and test that the new unit is performing optimally. Never let heater replacement become a DIY task, since the intricate details involved could result in a costly mistake if you do it on your own.
CALL OUR TEAM AT 480-741-1252 OR BOOK ONLINE TO LEARN MORE ABOUT THE IMPORTANCE OF HEATING REPLACEMENT IN THE EAST VALLEY OR THE COMPREHENSIVE BENEFITS OF OUR MAINTENANCE PLANS.
HEATING MAINTENANCE IN THE EAST VALLEY INCLUDING CHANDLER, GILBERT, MESA, QUEEN CREEK, SUN LAKES, & SAN TAN VALLEY, AZ
Delivering the Highest Level of Service
Although most people associate the state of Arizona with scorching heat and cloudless skies, those who actually live in the East Valley know that we get our fair share of chilly evenings and brisk mornings as well. Throughout the cold nights and crisp days, you will want to have a reliable heating system to switch on whenever you start feeling goosebumps.
Unfortunately, because homeowners do not tend to turn on their heating systems throughout the entirety of the year, it is easy to miss the fact that a sitting heating unit can turn into a malfunctioning one. As dust collects within the filters, fans, and other parts of your heater, this debris causes it to run less efficiently, which in turn wastes energy and raises your utility bill every month. Avoid these issues by reaching out to Paragon Service Pros for our dedicated maintenance service.
CONTACT US NOW AT 480-741-1252 TO DISCOVER WHY SO MANY HOMEOWNERS TURN TO US FOR HEATING MAINTENANCE IN THE EAST VALLEY.
Precision Checkups for All Your Furnace & Central Heating Needs
In the same way that you have your oil checked in your automobile or visit your eye doctor to make sure that your vision does not deteriorate, you also need to have your heater or furnace tuned up on a regular basis.
If you notice that your air conditioner is displaying extensive problems, it is high time to consider a new unit. Some of the most typical warning signals include:
Our detailed maintenance care is both precise and comprehensive, as we cover the breadth and depth of all heating services, including:
Making sure that all the burners and ignition are properly assembled and clean.
Examining the heat exchanger and flue draft and cleaning them of any dust.
Testing that the safety controls are working well.
Lubricating moving parts so they can operate smoothly.
Clearing out clogged filters or replacing them when necessary.
Tightening any connections to electrical outlets.
Recalibrating the thermostat.
CALL OUR TEAM AT 480-741-1252 OR BOOK ONLINE TO LEARN MORE ABOUT THE IMPORTANCE OF HEATING REPLACEMENT IN THE EAST VALLEY OR THE COMPREHENSIVE BENEFITS OF OUR MAINTENANCE PLANS.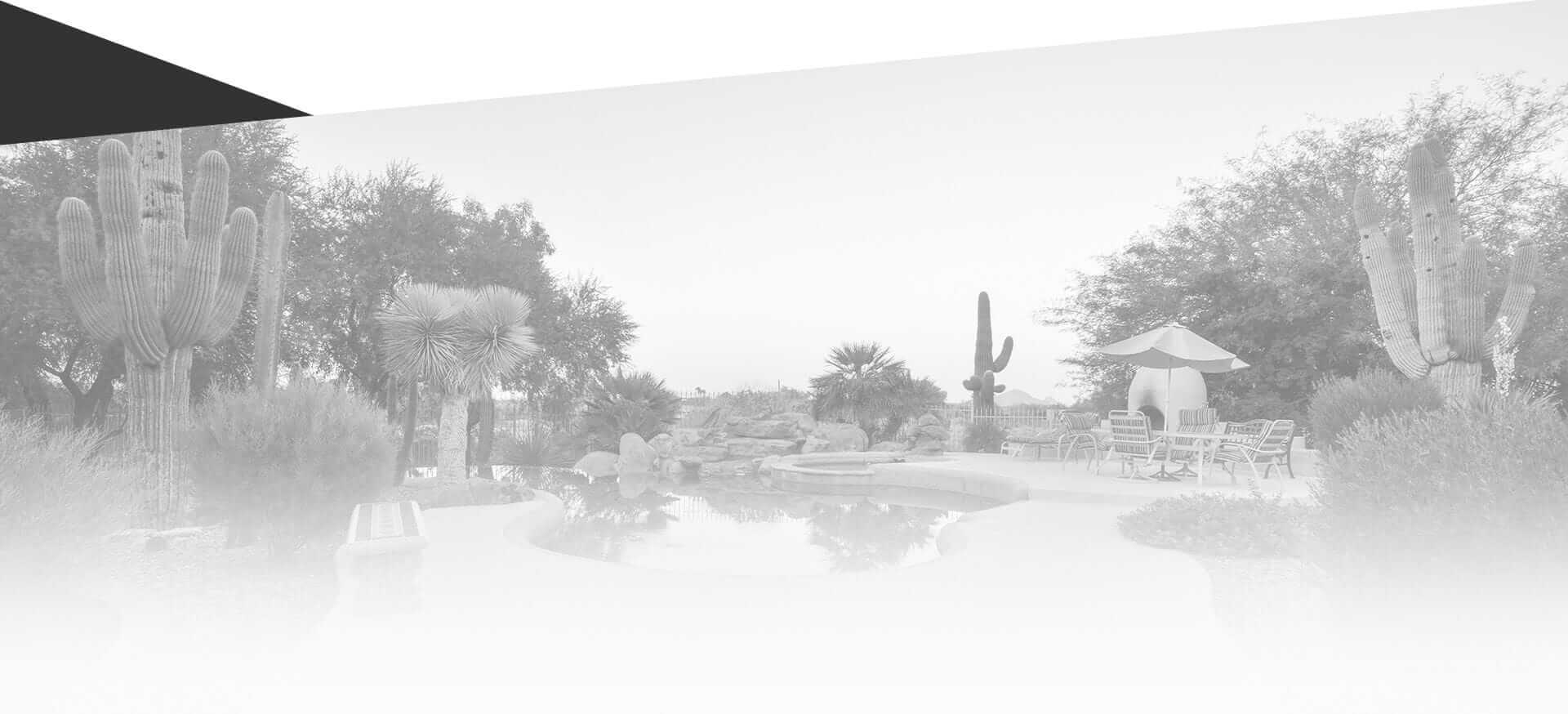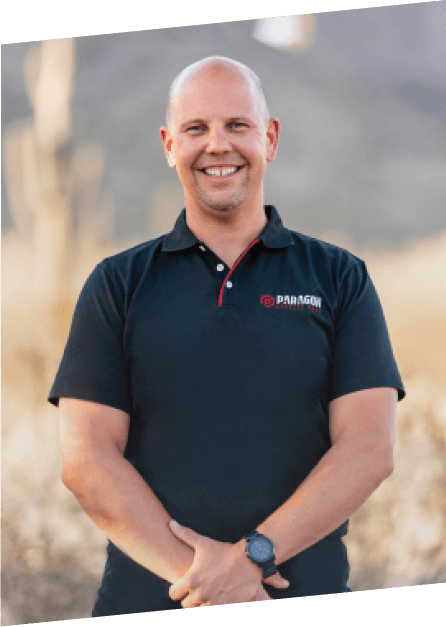 CONTACT US FOR AN ESTIMATE OR ANY QUESTIONS YOU MAY HAVE
We Offer Affordable On-Time Service In Queen Creek, Chandler, Gilbert, Mesa & Surrounding Areas